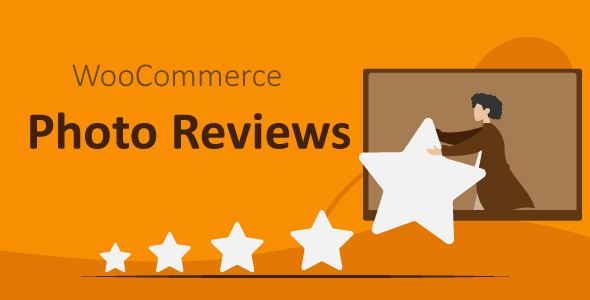 WooCommerce Photo Reviews is an ultimate review plugin for WooCommerce which help you to send review reminder emails, allows customers to post reviews include product pictures and send thank you emails with WooCommerce coupons to customers.
Send review reminder emails asking customers to review their purchased products.
Allows customers posting reviews include product pictures.
Send thank you email with a coupon code when a customer review is published.

FEATURES:
PHOTO REVIEWS
The plugin WooCommerce Photo Reviews allows your customers to post pictures along with their product review. This feature will help you to create a social proof of your product and increase conversion rate.
Photo review: The plugin allows customers to attach pictures to reviews and display that pictures along with the review on the front-end.
Maximum picture size: Set a maximum picture size that customers can attach to their reviews.
Maximum picture quantity: Set a maximum picture quantity that can be attached to a review.
Photos required: Reviews must include a picture in order to be uploaded.
Display by time: Select to display the newest or oldest review first on front-end.
Review Filter: Filter reviews by rating, contain pictures.
GDPR compliance: The plugin will display a message and a checkbox at the review form that allows customers to agree to share the review on your page.
Ajax pagination: Allow customers to move to the next reviews without reloading the page.
Verified badge: Display verified buy badge on reviews from customers who purchased the product.
Hide review author name: the review author name can be displayed as N*.
Image caption: the image caption option allows review authors to add a caption to each review picture.
Edit reviews: the site's admin can edit review text, rearrange or change review images.
Helpful button: the helpful button option allows users to mark reviews as "helpful" or "unhelpful". The result will be displayed on front-end under each review.
Add review manually: WooCommerce Photo Reviews provides a review form, allows the site admin to add review manually.
IMPORT ALIEXPRESS REVIEWS
The plugin allows you to import reviews from
AliExpress by using Ali Express product IDs.
Import using product ID: Using an Aliexpress product ID to import reviews from that products to a selected WooCommerce product.
Selected Ratings: Choose which review ratings will be imported All reviews, only 5-stars reviews, only 4-stars reviews, only 3-stars reviews, only 2-stars review or only 1-star reviews.
Included pictures: Select to import only reviews that include pictures
Translate to English: AliExpress has a feature to translate reviews into English. This option of WooCommerce Photo Review allows you to select to import translated reviews or import original reviews.
Mark imported review as Verified owner: The imported reviews will be marked with a "Verified owner" badge, that means the reviews come from people who purchased.
Download picture: If you select the download picture option, review pictures will be download to your website database. If not, the plugin will use the AliExpress pictures (with URLs to AliExpress.com) to display review pictures.
Country: Select a country to import only reviews from that selected country.
Number of reviews: Select a number of reviews will be imported. A product on AliExpress.com can have thousands of reviews and you may not want to import all of those reviews. So this option will help you to set a limit on reviews will be imported.
REVIEW REMINDER
After a scheduled time from when an order is marked as complete. The plugin will send a review reminder email to the customer, asking to review the product. To encourage the customer to take pictures of the product and leave a review, the plugin will offer them a discount coupon.
Review reminder email: Send emails to customers who purchased products, offering them coupons to encourage them posting review
Auto-login: When customers click on the link in their Review Reminder Email, they will be automatically login to their account on your site.
Products Restriction: Select which products will review reminder works.
Schedule reminder email: Select when will the plugin send reminder emails to customers.
REVIEW NOW button: Include a review now button with the link lead to the single product page.
Configure review reminder email: Configure the review reminder email sending to customers using shortcode customer_name
Exclude products/categories: Select which products/categories will receive a review reminder email.
The plugin only sends a review reminder if a customer has never reviewed the item before.
COUPON FOR REVIEW
The plugin will generate coupons and send to review authors. This prize will encourage customers to post reviews and it also increases your profit when they use the coupon.
Send coupon email: the plugin will send an email coupon whenever a review which qualifies the requirement is published.
Use existing coupons: you select to send existing WooCommerce coupons as a prize.
Auto-generate coupons: set up the plugin to generate unique coupons and send it along with the coupon emails. You can set up the plugin to generate coupons with all WooCommerce Coupon settings.
Photos required: you can select to send coupons to authors of reviews include photos only.
Minimum rating required: set a minimum rating review can get a coupon.
Verified owners required: the only reviews from the verified owner can get a coupon.
Specified products required: only selected products review can get a coupon.
Configure coupon email: configure the coupon email sending to customers using shortcode customer_name coupon_code  date_expires
SHORTCODES
The plugin provides 2 shortcodes. A shortcode to allows you to displays product reviews at anywhere you want. And the other shortcode which displays a review form, allows customers to leave a review about their purchased products.
The shortcode to display reviews
[wc_photo_reviews_shortcode comments_per_page="10" cols="4" cols_gap="" products="" grid_bg_color="" grid_item_bg_color="" text_color="" star_color="" product_cat="" order="" orderby="comment_date_gmt" show_product="on" filter="on" pagination="on" pagination_position="" conditional_tag="" custom_css="" ratings="" mobile="" style="masonry" overall_rating="off" rating_count="off" only_images="off"]
comments_per_page: number of comments per page.
comments_per_page="10"
cols: number of grid columns. Example:  cols="5"
cols_gap: gap between grid columns(px). Example:cols_gap="30"
products: display reviews of which products, enter product IDs. Example:
 products="99,100"
grid_bg_color: grid background color. Example:  grid_bg_color="#000000"
grid_item_bg_color: grid item background color. Example:
grid_item_bg_color="#3c3c3c"
text_color: reviews text color. Example: text_color="#ffffff"
star_color: rating stars color. Example: star_color="yellow"
product_cat: display reviews of products in which category. Example:product_cat="men"
order: sort reviews ASC or DESC. Example: order="asc"
orderby: select how you would like to sort reviews. 'comment_agent', 'comment_approved', 'comment_author', 'comment_author_email', 'comment_author_IP', 'comment_author_url', 'comment_content', 'comment_date', 'comment_date_gmt', 'comment_ID', 'comment_karma', 'comment_parent', 'comment_post_ID', 'comment_type', 'user_id', 'comment__in', 'meta_value', 'meta_value_num'. Example:orderby="comment_date_gmt"
show_product: show product summary on Mansory popup, ON/OFF. Example:
show_product="on"
filter: show filter bar, ON/OFF. Example:filter="on"
pagination: turn pagination ON/OFF. Example:pagination="on"
pagination_position: select left/right/center. Example:
pagination_position="center"
conditional_tag: enter conditional tags to select pages you want to display the review. In case you paste the shortcode in an area which appears on many pages, use this option to select which pages you want the shortcode to run. Example:
conditional_tag="is_page(35)"
custom_css: allows you to add your custom CSS code.
ratings: select which rating you want to display. Example: display only 4 and 5 stars reviews,
ratings="4,5"
mobile: ON/OFF, select if you want the shortcode to run on mobile devices. Example:
mobile="on"
style: select the front-end style mansory/normal. Example:
style="masonry"
overall_rating: ON/OFF select if you want to display the overall rating. Example:
overall_rating="on"
rating_count: ON/OFF select if you want to display the rating count module. Example:rating_count="on"
only_images: ON/OFF select if you want to display only reviews which have images. Example:
only_images="on"
The shortcode to display the review form.
[woocommerce_photo_reviews_form]
This shortcode helps you to display a review form. There are 3 ways to use it.
Display in single product pages: Paste the shortcode
[woocommerce_photo_reviews_form] into product description to display a review form for that product on front-end.
Add product ID: Add a product ID into the shortcode
[woocommerce_photo_reviews_form product_id="85"] by adding the product ID you can create a review form for a specific product and display it on any page.
Create a review page: Use the shortcode
[woocommerce_photo_reviews_form] to create a review page, then add the review page in the
Review Reminder tab. Customers who click on the Review now button in Review Reminder email will be redirected to this page. And they can review the product without login.
IMPORT/EXPORT REVIEWS
The plugin allows you to import/export reviews using CSV files.
Export review: the plugin allows you to export existing reviews to a CSV file. The exported file includes author, author email, comment date, comment content, rating, review image links, user ID…
Date: you can select a time range to export reviews.
Products: select the products which you want to export reviews.
Categories: select the categories which you want to export reviews from.
Rating: select the review rating you want to export. For example, you want to export only 4-stars and 5-stars reviews.
Comment status: select comment status of review you want to export. For example, you want to export only approved reviews.
Import review: you can import review using CSV files as well. The import review CSV has the same structure as the export CSV file.
OPTIONAL FIELDS
With this option, you can create multiple optional fields and set values for those fields. Then customers can select these value when they leave a review. The optional fields option help to provide more information about the product.
Create optional fields: you are able to create multiple fields and set the values of each field. For example, you can create a color field, and set values are Blue, Black, Red, etc.
Select field value: when a customer leaves a review, they can select a value of the field which you created. For example, a customer reviews a shirt and he can select the size is "XL".
Create fields from variations: the plugin will automatically create fields and values from your product variations.
FRONT-END DESIGNS
The plugin provides such many design option for you to change the review module to fit with your website interface.
Front-end style: there are 2 front-end styles for you to select. The Grid style and the default style.
Number of columns: select how many columns you want to display with the Grid style.
Background-color: helps you to change the background color of the review section.
Text color: you can change the review text.
Review date: you can choose to display the review date on front-end.
Display Review Tab first: in some case, the product description tab is displayed as default instead of the review tab. This option helps to display the review tab as default.
Review Rating Count: Display overall rating on the front-end.
Full-size images: allows customers to display review image full size.
Custom CSS: you can add your own CSS code to change the front-end design as you want.
ADDITIONAL FEATURES
Multiple Language: WooCommerce Photo Reviews allows you to display different front-end message, emails in different languages. This feature works with WPML and Polylang.
Preview: you can preview the emails created by WooCommerce Photo Reviews in the back-end.
Automatically update: you can auto-update the plugin from your Dashboard during your support period. This option requires you authenticate your purchase.
CHANGELOG

/**1.1.9- 2022.01.15**/
- Updated: Compatibility with WC 6.1
- Fixed: Get the average rating for products that share reviews