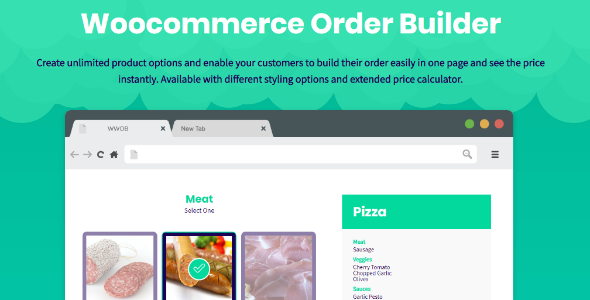 Create unlimited combo products with different options and enable your customers to build their order easily in one page and see the price instantly. Available with different styling options and extended price calculator.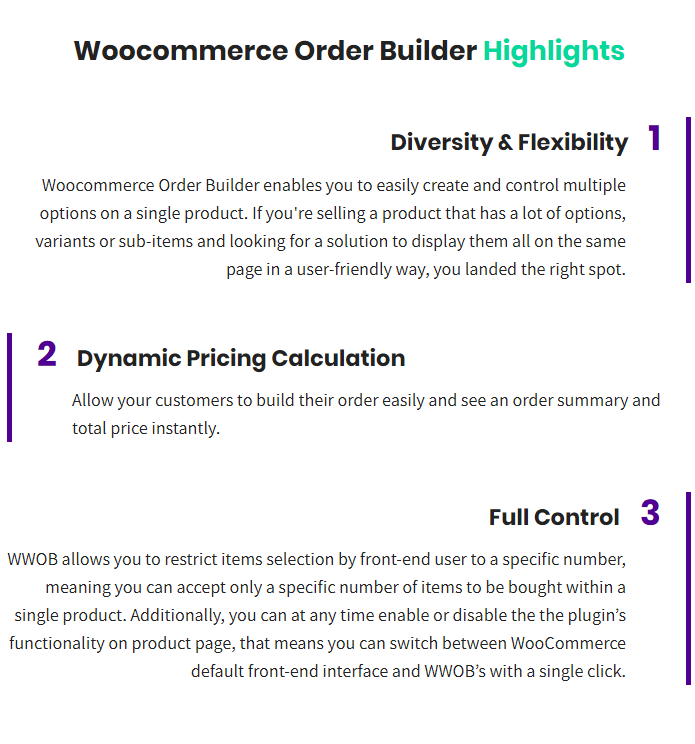 In addition to a number of different features, WWOB allows you to customize your product styling easily with extended options and pre-made styles. These professionally designed styles are built entirely with our options and require no custom coding. All styles can be easily activated with one click.

Please view the documentation for full demonstration of how the plugin works, If you still have any questions please submit here before buying the plugin to make sure it will work well for your specific need.
Changelogs


= 1.0.0 = 10/23/2017
*  First plugin release.



= 1.0.1 = 10/27/2017
*  Added option to disable image.
*  Fixed flickering sticky bar issue.
*  Fixed images dynamic height issue.



= 1.0.2 = 10/28/2017
*  Added quantity selection feature.
*  Improved sticky-bar performance.
*  Added ability to set base-price (Price added to the total of selected items).



= 1.0.3 = 11/04/2017
*  Added hooks and filters for web developers.



= 1.0.4 = 11/06/2017
*  Added enhanced calculator.
*  Improvements and new feature to sort products.
*  Added the ability to change product display between WooCommerce layout and WWOB layout.



= 1.0.5 = 11/06/2017
*  Fixed bugs.
*  Added new hooks and features.
*  Improved WWOB product options.



= 1.0.6 = 11/12/2017
*  Fixed WC variation conflict bug.
*  New actions and filters
*  Compatibility fixes for PHP versions over 7.0.14



= 1.0.7 = 03/02/2017
*  Fixed bugs.
*  added wwob class to body to have better control over the pages where wwob is used.



= 1.0.8 = 30/03/2018
*  Fixed bugs
*  Made transation ready
*  Added preview image option
*  Added special instruction to email



= 1.0.9 = 31/01/2019
*  Fix conflicts with WooCommerce 3.5.4



= 1.1.0 = 16/04/2019
*  Fixed image preview bug
*  Added ability to include quantity selections in the max product restriction



= 1.1.1 = 04/09/2019
*  Fixed translation issue



= 1.1.2 = 04/03/2020
* Display fixes
* Fixed issue of extra options not appearing in cart



= 1.1.3 = 22/07/2020
* fixed bug ( prevent add to cart without selection )