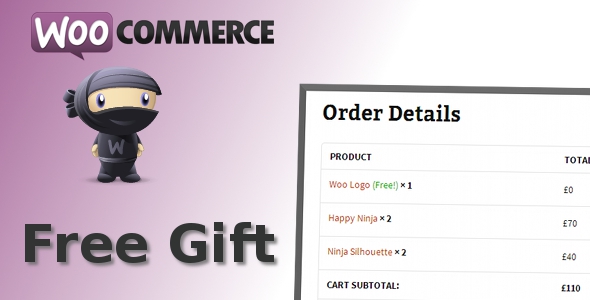 WooCommerce Free Gift
Reward customers with a free gift for spending more than a specified amount of money.
Works with WooCommerce 6.1 ✅
This WooCommerce extension makes it possible to effectively motivate customers by rewarding them with a free gift for spending at least a specified amount of money.
WooCommerce Free Gift highlights include:
Option to specify a single product as the gift or to allow customers select a gift from a specified category according to the order price.
The functionality can be enabled for all customers or only for registered customers.
Giving a gift to the same customer more than once may be disabled if desired.
Support for variable products: the gift can be a concrete product variation as well.
Possibility to set two levels of gifts according to the order price (cart total or subtotal). This means that customer may be rewarded a better gift if he/she spends even more money.
New: Full ajax-driven combo box for the gift selection.
New: Possibility to set the gift to be visually added to the cart.
New: A product or category of products can be excluded which means that if they are specified and they are put in the cart, no gift will be applied.
New: A new easy update system for future releases.
New: Settings split to Basic and Advanced sections for better clarity.
Current version: 4.0.18
Change log:
4.0.18

Maintenance release – making the plugin compatible with WooCommerce 5.2. (i.e. fixing the error notice about variations)

4.0.17

Checked for compatibility with WooCommerce 5.0

4.0.16

Added support for the plugin Multi Currency for WooCommerce.

4.0.12

Maintenance release; tested with the newest WooCommerce 4.8 and WordPress 5.6.

4.0.10

Added support for WP Multisite.

4.0.7

Support for WooCommerce mini-cart can be enabled or disabled.

4.0.2

New feature: When the plugin is deactivated, remove all free gifts from all carts in the shop.

4.0 MAJOR UPDATE!

Speed optimization. The plugin now works much faster than in previous versions
Enhanced gift combo box. It is fully ajax-driven with a reasonable non-js fallback
Possibility to set the gift to be visually added to the cart
Settings split to Basic and Advanced sections for better clarity
A product or category of products can be excluded which means that if they are specified and they are put in the cart,
no gift will be applied.
A new easy update system for future releases.

3.0

Code optimization and cleanup.

2.4

New Feature: Possibility to choose whether to calculate the total price based on Cart Subtotal or Cart Total

2.1

Fixed the problem with multiple cart notifications

2.0

Compatibility with WooCommerce 4.0.

1.8.1

Improved compatibility with certain plugins.

1.8.0

Added support for WooCommerce 3.0.

…