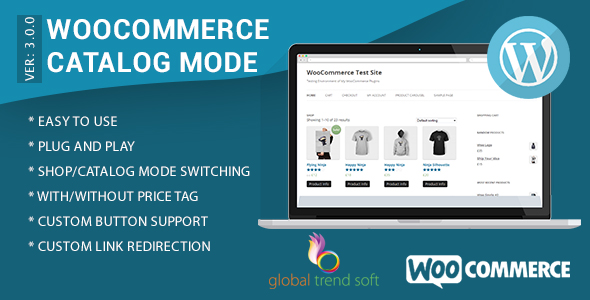 About This Plugin
"WooCommerce Catalog Mode" plugin can TURN OFF shopping or cart related functionalities from an WooCommerce web store.
If you install and activate this plugin, CATALOG ONLY MODE will be activated sitewide. In catalog mode "Add to Cart" buttons will be removed from the full shop, so shopping/purchasing functionality will be disabled. Visitors will be able to view the products and their details only. Optionally, they can make a query to the site administrator using a customized button.
Price tags with the products can be kept hidden or shown as per administrator settings.
There is an option to add a CUSTOM BUTTON with each product. A common link/url can be binded with this button or it can simply redirect the visitors to the product detail page. Link can be opened in the same window or in a separate one.
This button, if added, will inherit the look and feel of the active theme automatically.
Just plug and play. Install and activate this plugin, site will move to catalog mode automatically and instantly.
*If you like this plugin, please do not forget to put a rating on this item. We greatly appreciate your valuable rating
Plugin Features –
You can turn Shop mode to Catalog mode with one click
Can decide to keep Price Tags or not
Custom button support
Custom link support
Mode switcher option available
Live Demo
Demo 1 (Custom Button with Price Tag)
Update / Maintenace History

#Update 11: 28-January-2022
- Routine Maintenance done.
- Compatibility tested successfully with "WordPress 5.9" and "WooCommerce 6.1.1" 

#Update 10: 15-July-2021
- Routine Maintenance done. Codebase and libraries are all up to date.
- Compatibility tested successfully with "WordPress" 5.7.2,  "WooCommerce" 5.5.1

#Update 9 & Maintenance 18: 20-October-2020
- Routine Maintenance
- Compatibility tested successfully with "WordPress" 5.5.1,  "WooCommerce" 4.6.0

#Maintenance 17: 22-May-2020
- Routine Maintenance
- Compatibility tested successfully with "WordPress" 5.4.1,  "WooCommerce" 4.1.1
#Maintenance 16: 15-Feb-2020
- Routine Maintenance
- Compatibility tested successfully with "WordPress" 5.3.2,  "WooCommerce" 3.9.2
#Update 08 & Maintenance 15: 02-May-2019
- Routine Maintenance
- Compatibility tested successfully with "WordPress" 5.1.1,  "WooCommerce" 3.6.2
#Maintenance 14: 28-January-2019
- Routine Maintenance
- Compatibility tested successfully with "WordPress" 5.0.2,  "WooCommerce" 3.5.4
#Update 07 & Maintenance 13 - 27-SEPTEMBER-2018
- New Version - 2.4
- Compatibility tested successfully with WordPress 4.9.8 and WooCommerce 3.4.5
#Maintenance 12 - 30-JAN-2018
- Compatibility tested successfully with WordPress 4.9.2 and WooCommerce 3.2.6
#Update 06 & Maintenance 11 - 09-JAN-2017
- Some routine fixes and updates
- Compatibility tested successfully with WordPress 4.7 and WooCommerce 2.6.11
#Update 05 & Maintenance 10 - 25-MAY-2016
- Minor Fix
- Compatibility tested successfully with WordPress 4.5.2 and WooCommerce 2.5.2
#Maintenance 09 - 23-JAN-2016
- Compatibility tested successfully with WooCommerce 2.5.0
#Update 05 & Maintenance 08 - 09-JAN-2016 
- Compatibility Tested Successfully with WooCommerce 2.4.12 and WordPress 4.4.1
- Added some new configuration options
- Updated documentation
#Update 04 & Maintenance 07 - 16-OCT-2015 
- Compatibility Tested Successfully with WooCommerce 2.4.7 and WordPress 4.3.1
- Updated documentation
#Maintenance 06 - 23-AUG-2015 
- Compatibility Tested Successfully with WooCommerce 2.4.5 and WordPress 4.3
#Update 03 - 28-APRIL-2015 Released Update 2.0.1
- Fixed some issues
- Compatibility tested with WP 4.2 and WC 2.3.8
#Maintenance 05 - 27-FEB-2015 
- Compatibility Tested Successfully with WooCommerce 2.3.5 and WordPress 4.1.1
#Maintenance 04 - 26-NOV-2014 
- Compatibility Tested Successfully with WooCommerce 2.2.8 and WordPress 4.0.1
#Update 02 - 25-AUG-2014 
- Released Version 2.0
#Maintenance 03 - 24-AUG-2014 
- Compatibility Tested Successfully with WooCommerce 2.1.12 and WordPress 3.9.2
#Update 01 - 29-APR-2014 
- Removed extra code and elements, Plugin is now more lightweight.
#Maintenance 02 - 17-APR-2014 
- Compatibility Tested Successfully with WooCommerce 2.1.7 and WordPress 3.9
#Maintenance 01 - 07-MAR-2014 
- Compatibility Tested Successfully with WooCommerce 2.1.4