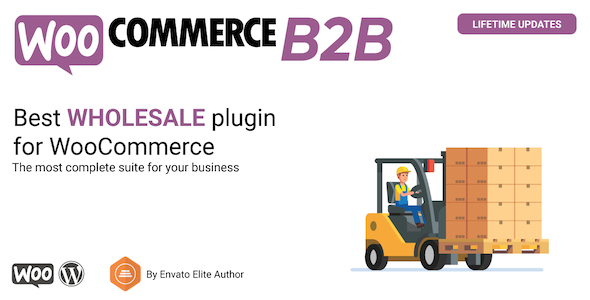 WooCommerce B2B – #1 WooCommerce plugin to grow your business
WooCommerce B2B is the most complete solution to have a wonderful B2B store with WooCommerce.
All the features you need to manage wholesale e-commerce: price lists, hidden prices, customer groups, VAT handling, approved customers, shipping and payments method management and so on… WooCommerce B2B does all of these, in only one plugin, to allow you to open your B2B e-commerce or add the B2B features to your B2C shop quickly and easily.
PAY ONCE, LIFETIME UPDATES
Unlike other plugins that require annual renewals, with WooCommerce B2B you have the most complete B2B suite available with a single payment and at a constant price! In addition, you have access, without extra cost, to all future updates, forever.
We are always working to add new features with targeted updates, which do not compromise the stability of your site.
EVERYTHING YOU NEED IN A SINGLE SOLUTION
WooCommerce B2B is really simple to use, but at the same time very powerful. It has all the features that a successful B2B must have and even more: special and unique features, designed and developed by combining our experience and the requests of our users, to create a truly unique suite!
Why choose WooCommerce B2B over other plugins?
WooCommerce B2B is the first plugin of this kind, with a strong experience behind it that has allowed us to listen to the needs of our hundreds of satisfied users to make the plugin simple, complete and satisfactory.
In addition, our team has an obsessive attention to performance, a weak point of many plugins, but not of WooCommerce B2B!
But it's not over here! Our project is long term, with the constant commitment to improve WooCommerce B2B, always adding the most useful and most requested features, our roadmap is already full of new ideas!
Take a look to the experiences of users who have trusted WooCommerce B2B and their satisfaction.
What makes WooCommerce B2B wonderful?
Here are some of the features most loved by our users, which make WooCommerce B2B the most chosen and desired plugin in its sector.
Unleash the potential of your online store thanks to the fantastic features of WooCommerce B2B, studied in detail to develop and grow your business.
Apply rules you prefer to the special Guest group: WooCommerce B2B will consider, in addition to the customers that you will put in this group, all customers not logged in. Thus you will have complete personalized management of B2C customers.
Features in detail
Groups
Organize and group your customers to apply specific rules
Groups management
Specific rules for each group
Special groups
Enable/Disable payment methods and shipping methods for each group
Specific Terms&Conditions for each group
Hide product categories and pages for each group
Minimum purchase amount for each group
Add a order fee amount for each group
Prices management
Advanced prices management to differentiate product price lists
Different global percentage discount for all products for each group
Different dedicated prices (regular/sale) for each single product for each group
Both previous options cascading
Special prices by quantity
Hidden prices for guest customer or by group
Recommended retail prices (RRP) for B2B customers
Tax management
Advanced tax management to differetiate tax application and displaying
Prices tax included for B2C customers and tax excluded for B2B customers
Tax exemption by group or by country
Quotation system
Allow customers to ask for a quotation
At checkout, customer can pay, OR choose the "Quotation request" gateway
When customer choose "Quotation request", receive an email notification
Shop manager can edit and adjust order items prices and notify customer
Customers can pay for the quotation
Dedicated section in customer my-account section
Registration management
Moderate and extend customer registration
Allow customers you want to approve and allow them to login and purchase
Extend registration form with billing data
VAT number support with validation
Restict entire website access to registered customers
Products management
Advanced features to manage products search and purchase
Live search to improve searching performance
Search by SKU to improve searching performance
Restrict product adding to cart to Min/Max quantity and steps (packages)
Special Integrations with WooCommerce B2B Sales Agents
We have integrated WooCommerce B2B to work perfectly with our popular WooCommerce B2B Sales Agents plugin.
The following features REQUIRE WooCommerce B2B Sales Agents also installed and active:
Organize customers into groups and choose a default group for each customer registered by sales agent
Definition of roles and capabilities
WooCommerce B2B offers new features that add to default ones of WooCommerce, here are the main ones:
What ADMINISTRATOR can do?
Manage groups
Assign a group to customers
Change status of customer accounts
Set a dedicated price by group for each product
Set dedicated tier prices by group for each product
Set minimum, maximum and package quantities for each product
Set pages and product categories visibility by group
Select payment methods by group
Select shipping methods by group
Set up tax exemption by group
Set a minimum purchase amount by group
Set an additional order fee by group
Manage quotes
What CUSTOMER can do?
Search products by SKU
Make large orders via CSV file
Choose his own group
Live Demo
WooCommerce B2B allow you to have a test drive, with its available demo:
BACKEND: https://demo.woocommerce-b2b.com/wp-admin/

FRONTEND: https://demo.woocommerce-b2b.com/
Documentation
Take a look to WooCommerce B2B online documentation:
https://woocommerce-b2b.com/documentation/
Support
Do you need help? Contact our support team:
https://support.woocommerce-b2b.com/
Frequently Asked Questions
Find the answer to your doubts among the most frequent requests:
https://woocommerce-b2b.com/#faq
Grow your business
Are you looking for a definitive solution to expand your shop to the B2B world?
Stop your search, WooCommerce B2B is here!
Finally, the first plugin for WooCommerce compatible with all your B2B needs. The best features collected in a single suite, simple and performing.
WooCommerce B2B is a plugin that allows you to enable Business-to-Business mode in your WooCommerce shop, to use it for wholesale.
With WooCommerce B2B, you can organize customers in groups, display prices only to logged in customers, approve customers registration, allow orders only reaching a minimum amount, enable / disable payment and shipping methods by group, manage product categories visibility and much more!
Whether yours is a B2B shop, or if you prefer a hybrid B2C / B2B solution, WooCommerce B2B is the ideal solution for you.
For more information, see OFFICIAL PLUGIN PAGE.
Changelog
https://woocommerce-b2b.com/#changelog