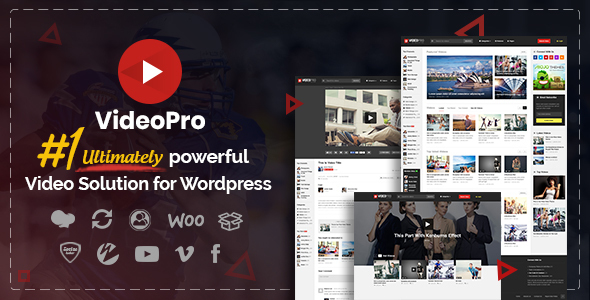 If you like this responsive video theme, please rate
and leave comments so we can make better products.

The most powerful WordPress theme for video-based websites. Built upon our True Mag theme, biggest video theme on market, VideoPro has more unique features which help you to build any kind of video websites. Whether it is about game, movie, news, entertainment, science… VideoPro can do it!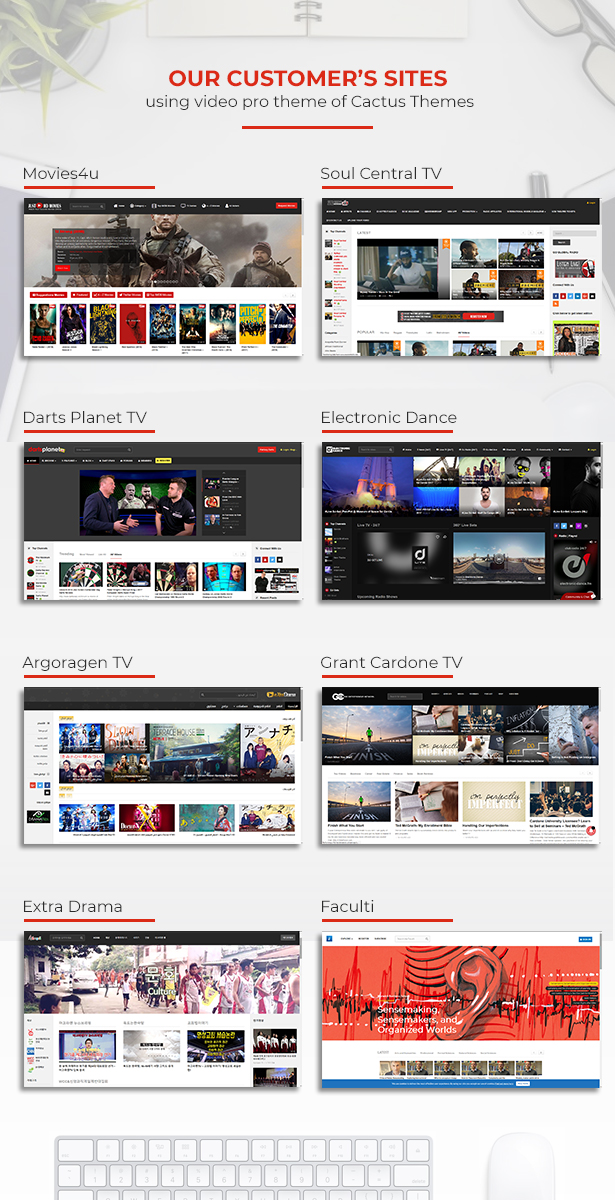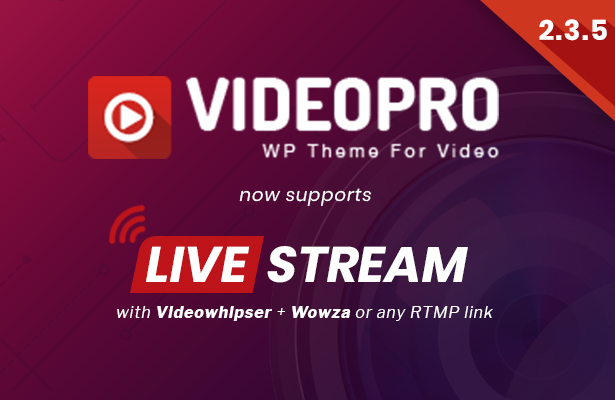 New: VideoPro 2.3.1 supports MyCred & Ultimate Membership PRO. Also support QuForm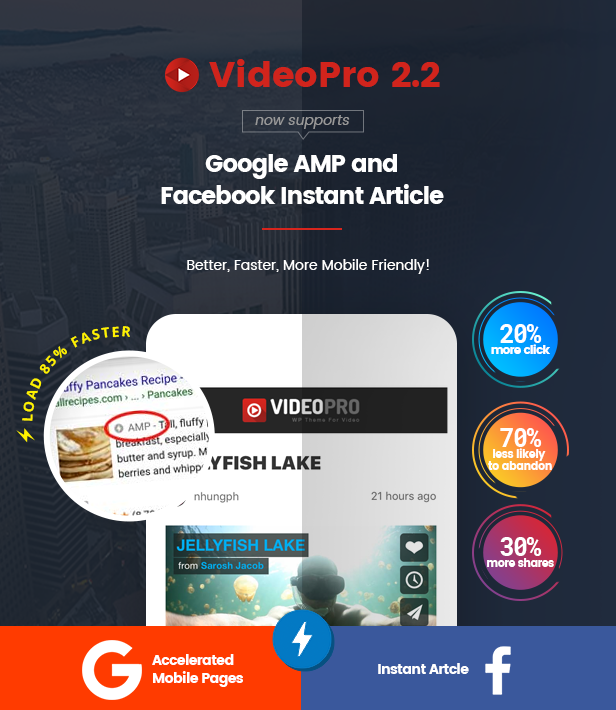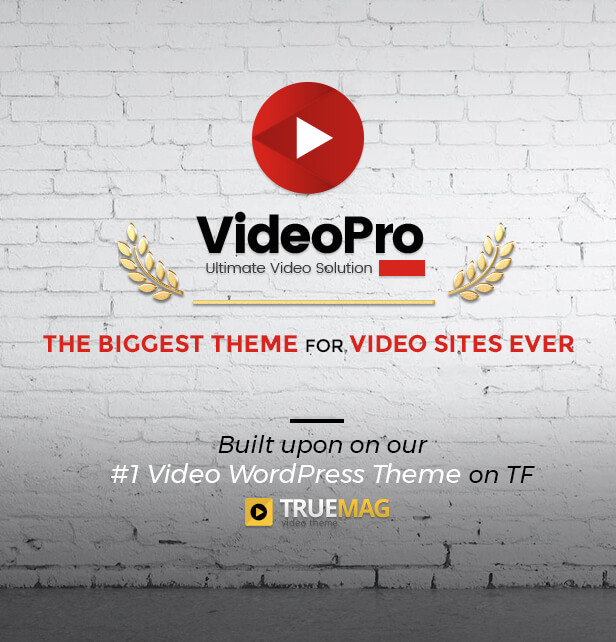 VideoPro 2.0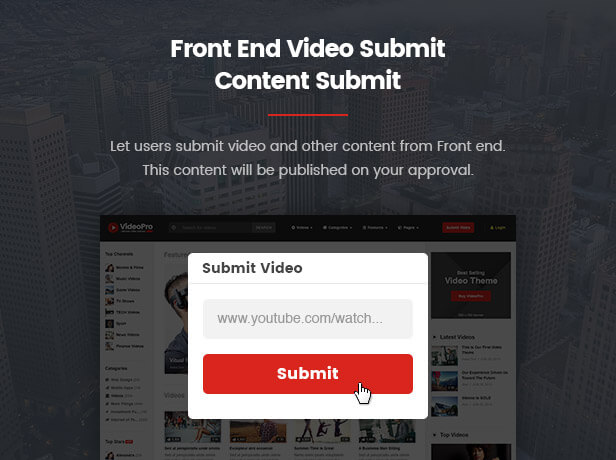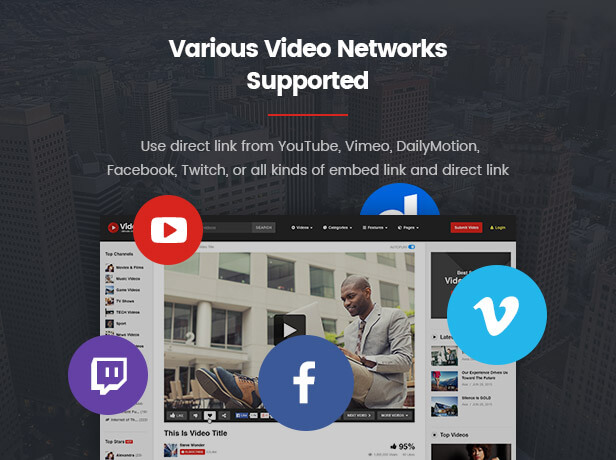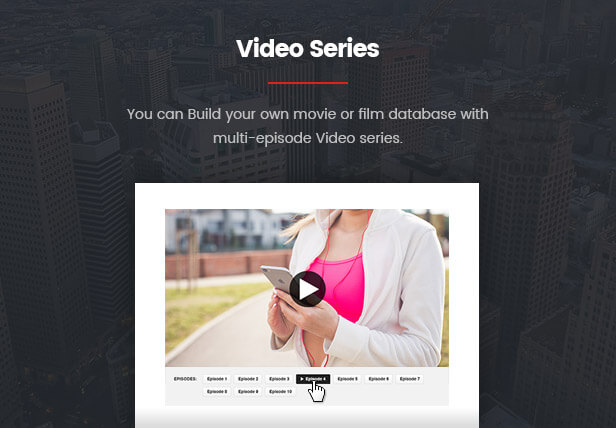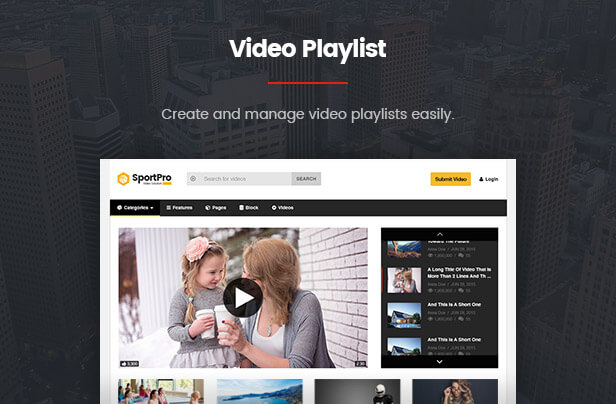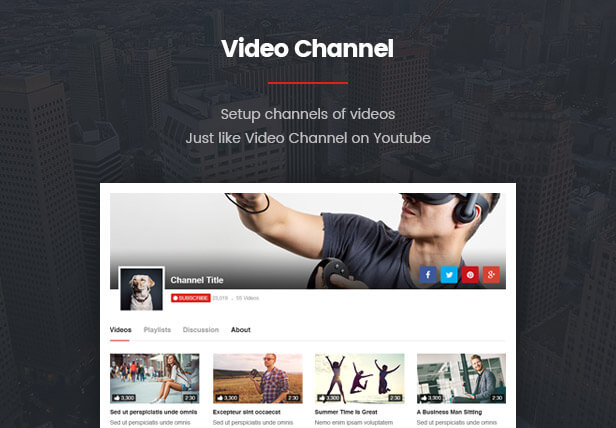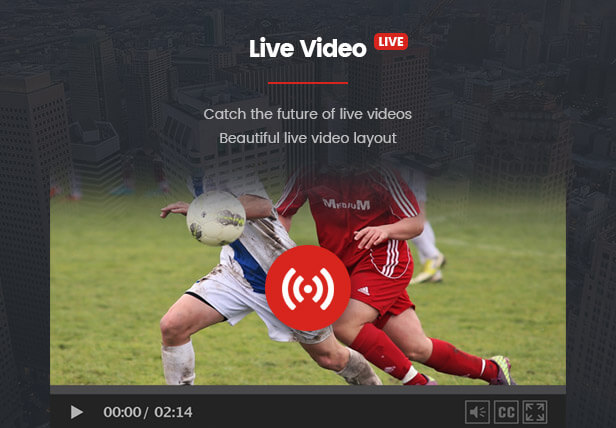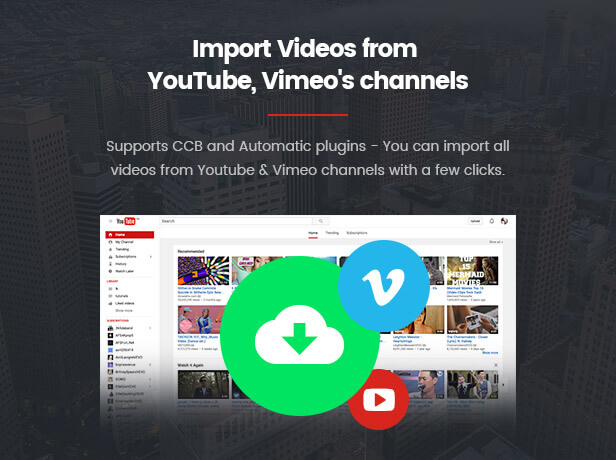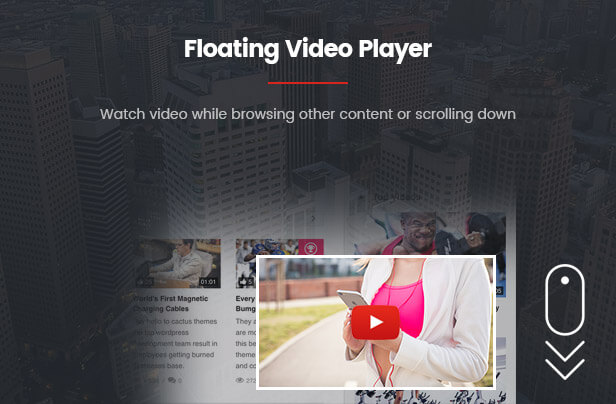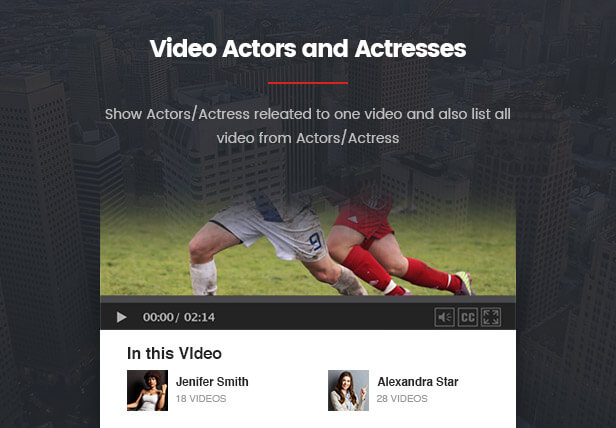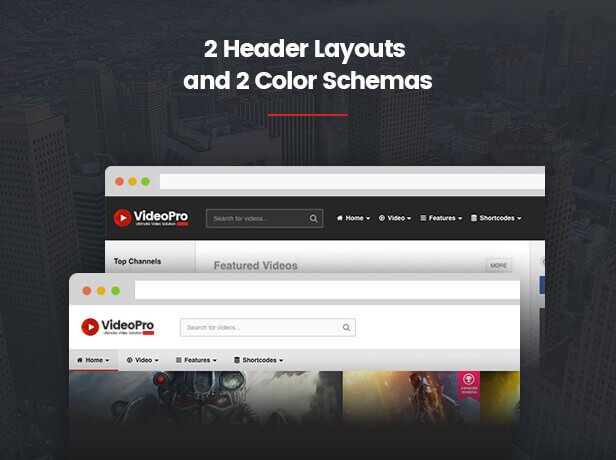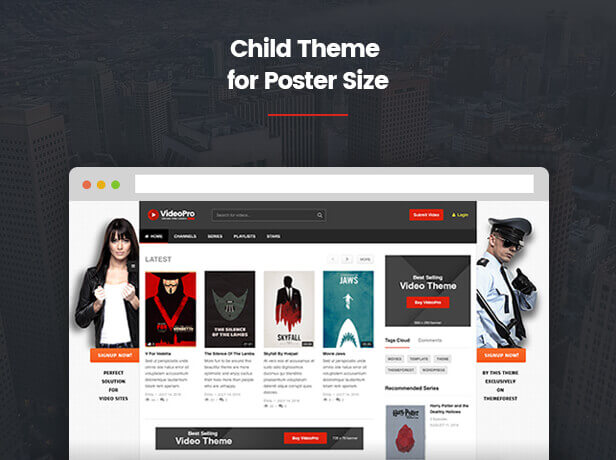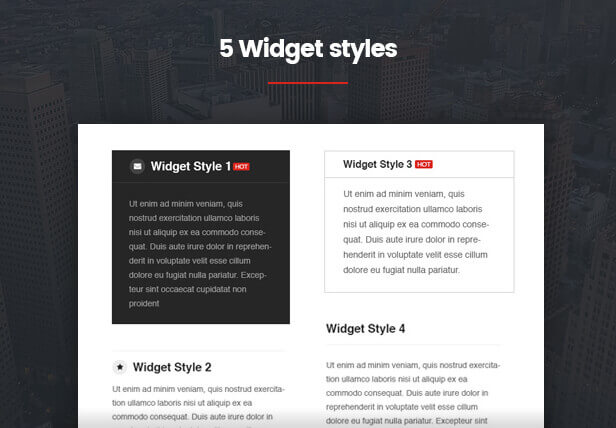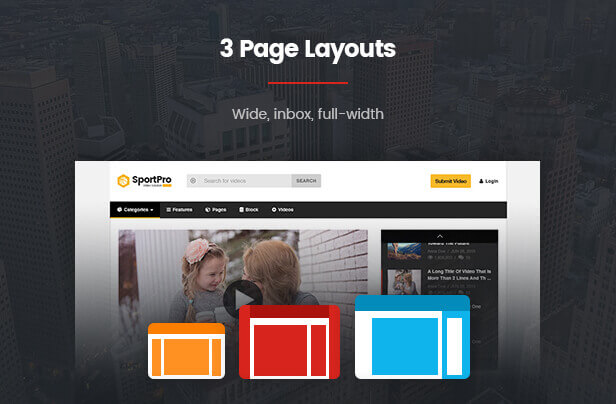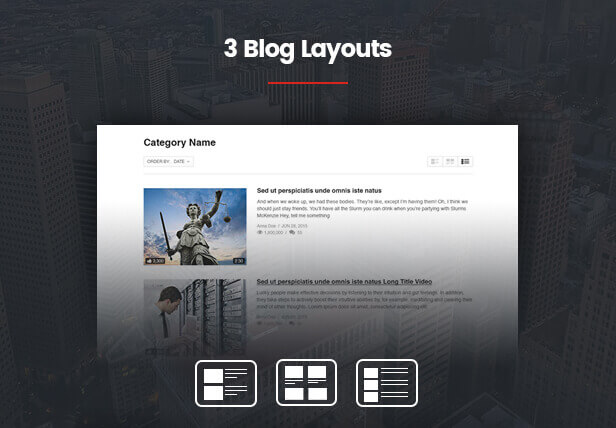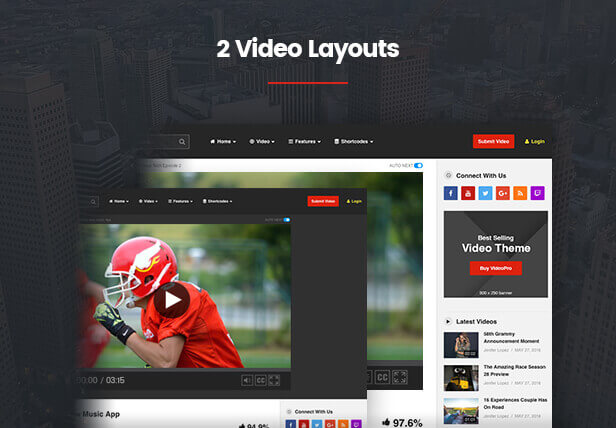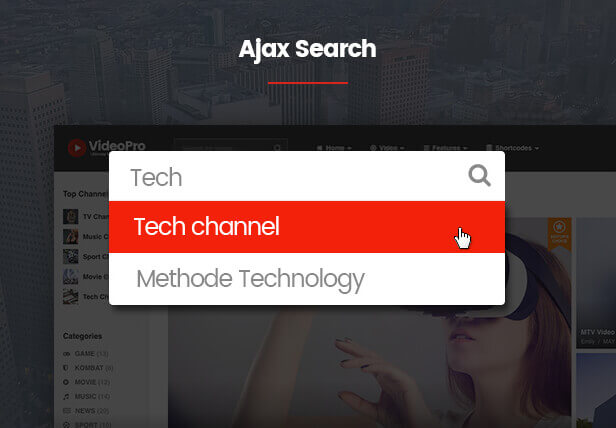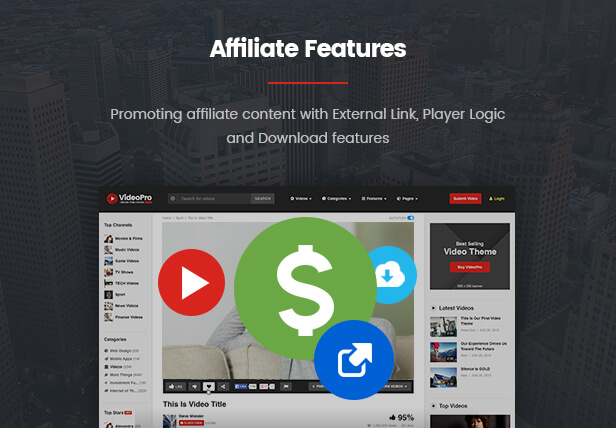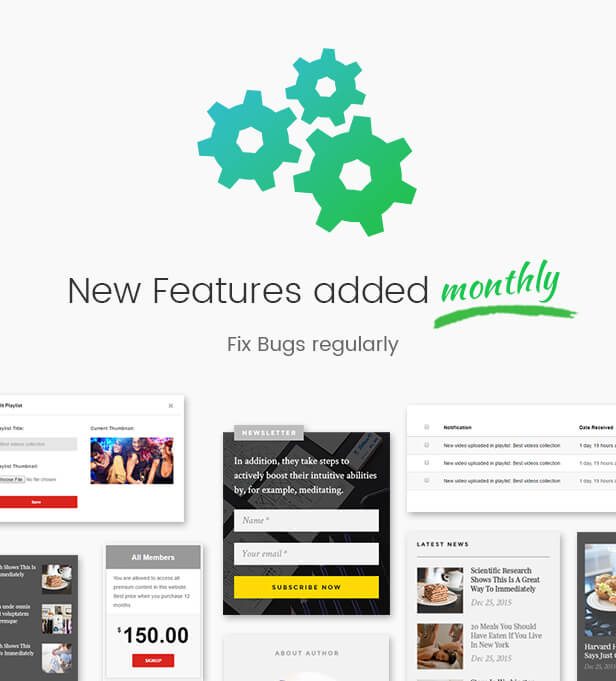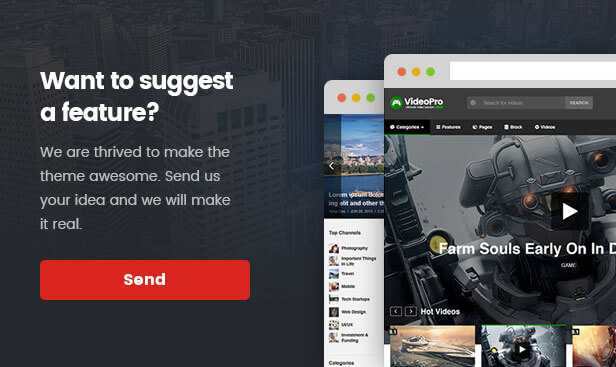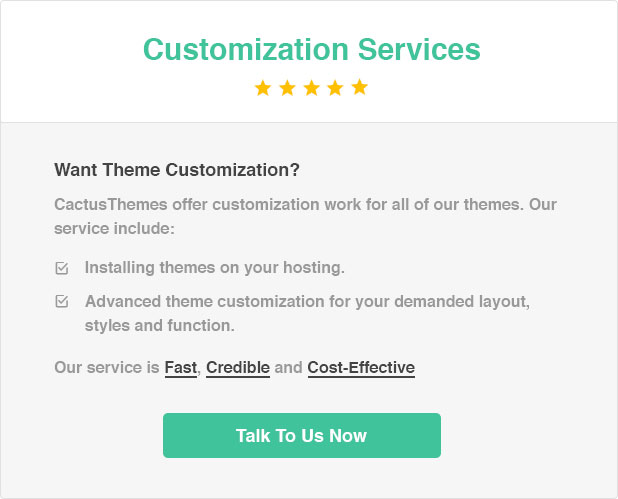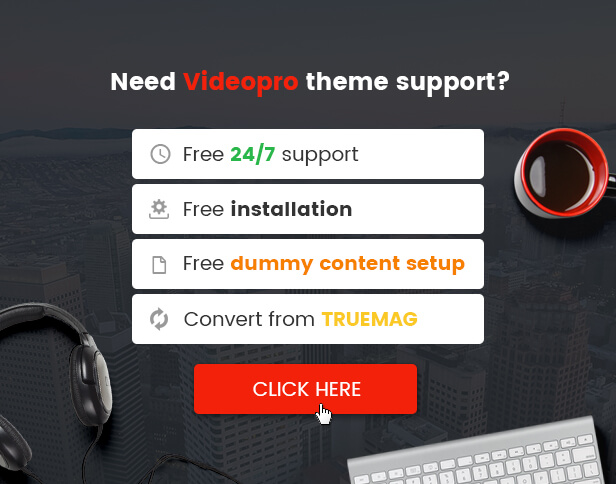 Check out VideoPro's full features list beflow

Submit Video/Post: allow visitors to submit posts
Various Video Network supported: use direct link from YouTube, Vimeo, DailyMotion, Facebook, Twitch, supports all kinds of embed link or direct link
Video Series: build a movie database with mult-episode series
Video Playlist: create a video playlist easily
Video Channel: setup channels of videos
Live Video supported: catch the future of live videos
Import Videos from YouTube, Vimeo's channels: support WordPress YouTube Import, Automatic plugins
Floating Player: watch video while browsing other content
Video Actors: promote movie stars
Video Screenshots: view video screenshots before watching
Video Lightbox: watch video without opening new page
Multi-links: upload your video to several servers so users can choose where to watch faster
Support Social Locker: earn likes and shares for your content
Video Player logic: extend your video player functions, such as adding rolling Ads
Filter Videos and Advance Search feature: filter videos based on various conditions
Video Rating: allow admin and users to rate content
Watch Later: allow users to add videos to Watch Later list
External Link: promote affiliated content with External Link
Tons of video-related features
Customizable: change color, typo, background for every part of the page
Advertisement: offer various pre-defined locations to place ads
Membership features: Support MyCred & Ultimate Membership PRO. Also support QuForm
Community features: with BuddyPress integration
Download Video: a small button for a big job
Ajax search: instant search content
Support Age Verify plugin: verify your audience's age for adult content
Cactus Landing page a simple plugin to manage Opening Soon or Maintenance mode
SoundCloud customization: customize SoundCloud player easily
Powerful shortcodes: Smart Content Box with 10 layouts and Posts Slider to support all post types
Hundreds of Theme Options
5 widget styles
Ajax loading content, optimized speed
3 Page Layout: wide, inbox, full-width
2 Header Layouts and 2 Color Schemas
3 Blog Layouts
2 Video Layouts
Very detail document with advanced Ajax Search: Online Document

Child Theme for Poster Size included
VideoPro Poster Size
Cooking Demo
VideoPro Cooking
Convert from True Mag to VideoPro with the helper of a converter plugin
True Mag – VideoPro Converter
Check out our latest theme for University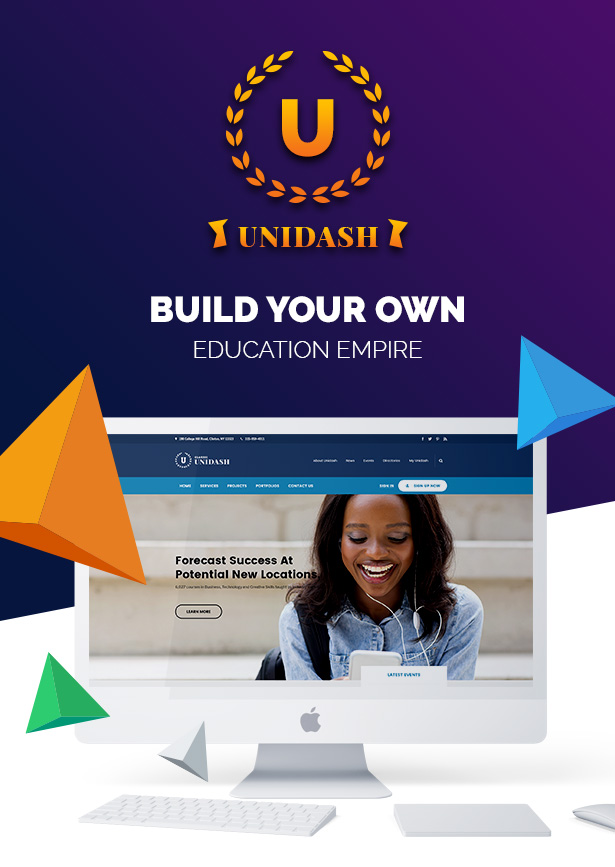 Release Logs
VideoPro 2.3.7.3 – 2021/01/13
includes Visual Composer 6.5.0; Cactus-Video 2.3.7.3;

#Update: tpl video listing
#Fix: correct typo
#Fix: author.php

VideoPro 2.3.7.2 – 2020/11/23
ncludes Cactus Actor 1.1.4.6; Videopro-shortcodes 1.3.4.9; Visual Composer 6.4.2; Cactus-Video 2.3.7.2;

#Improve: Slick to 1.8.0
#Fix: some css minor issues
#Fix: some css minor issues
#Fix: Breakcrumb appearance
#Fix: relocate cactus-actor folder
#Fix: Category and Sẻies hỉearchy for Breadcrumb
#Fix: JS eror on WP 5.5
#Fix: Showing search suggesting on mobile
#FIx: BuddyPress – Fatal error on Legacy Template pack
#Fix: Issues on page editor
#Fix: Post slider layout in range 1200px-3600px
#Fix: JS deprecated warning, php warning
#Fix: Template tag

VideoPro 2.3.7.1 – 2020/08/18
includes Cactus Actor 1.1.4.5; Videopro-shortcodes 1.3.4.9; Visual Composer 6.3.0;

#Improve: Add Instagram to Social Accounts, allow select background for custom social icons, remove unused Google+
#Fix: Widget be compatible with WordPress 5.5 (migrate jQuery)
#Fix: Warning message

VideoPro 2.3.7.0 – 2020/08/10
includes Cactus-Video 2.3.7.0; Cactus Actor 1.1.4.4;

#Fix: Auto next not working
#Fix: Actor URL in dropdown section
#Fix: Update Schema.org for breadcrumbs
#Fix: Font awesome class code
#Fix: Open social link in new tab not work
#Fix: Youtube start time parameter does not work on single
#Fix: Not exclude channels for non-logged in users
#Fix: Canot upload video in submission form
#Fix: Support Elite player
#Fix: Breadcrumbs

VideoPro 2.3.6.9 – 2020/05/03
includes Cactus-Video 2.3.6.8; Cactus Actor 1.1.4.3; Unyson Backup Extension 1.0.5; Visual Composer 6.2.0;

#Fix: warning when create channel from front end
#Fix: content top sidebar on actor listing template page
#Fix: Syntax error
#Improve: allow create Channel on profie page of BuddyPress
#Improve: add option to Submit video title in Submission
#Improve: add filter for BuddyPress compatibility
#Improve: Add option selecting IDs actor for Actors listing </shortcodes
#Update: sample data plugin and disable session from Unyson</shortcodes>
#Update: filter

VideoPro 2.3.6.8 – 2020/03/22
includes Cactus-Video 2.3.6.7;
VideoPro Shortcode 1.3.4.8;

#Fix: Dark schema setting in front page
#Fix: Add video file
#Fix: Filter bug of Smartcontent Box shortcode
#Fix: plugin video thumbnail
#Fix: Like button in Single video page
#Fix: Warning when active Unyson Sample Data

VideoPro 2.3.6.7 – 2020/01/20
includes Cactus-Actor 1.1.4.2; Cactus-Ads 2.5.5.5; Cactus-Video 2.3.6.6;
Advance Search Form 1.4.9.9; VideoPro Shortcode 1.3.4.7; VideoPro Unyson backup Extension 1.0.3; Visual Composer 6.1;

#Update: Smooth scroll library
#Update: Vidoe Thumbnail plugin
#Fix: archive layout for single series page
#Fix: pagination for single series page
#Fix: Meta data for post slider layout 7
#Fix: Add header tag for 404 page
#Fix: Add widget logic for recommended plugin
#Fix: warning in cactus ads plugin
#Fix: Add custom social account
#Fix: shortcode series listing and channel listing
#Fix: watch later issues when using custom order for playlist
#Fix: Channel/Actor lisitng widget show incorrect number of videos
#Fix: Warning in videopro shortcode plugin
#Fix: using offset in Smart Content Box
#Fix: Warning on PHP 7.1
#Fix: Always requires update Cactus Ads plugin
#Fix: Warning Advance Search form plugin
#Fix: Warning for Unyson backup
#Fix: Cactus Ads when auto play video
#Fix: Warning undefined index for series in single video page
#Fix: Dropcap shortcode on Dark Schema
#Fix: Share video on Facebook, unable to play directly

VideoPro 2.3.6.6 – 2019/10/01
includes Cactus-Actor 1.1.4.1;

#Update: Video Thumbnail plugins
#Fix: Icon cart on header
#Fix: Install recommended plugins
#Fix: Upload branding logo image

VideoPro 2.3.6.5 – 2019/09/02
includes Cactus-Video 2.3.6.5; Vissual Composer 6.0.5; VideoPro-unyson-backup-restore 1.0.2

#Fix: Single actor bugs
#FIx: Conflict with WpDisuz
#Fix: Fix Ajax loadmore
#Fix: Lost Edit profile in Log in menu
#Fix: Read video using HTML5 Video JS player
#Fix: Compatible with the latest Elite Player
#Fix: z-Index on Category mobile menu
#Fix: z-Index for more video on Ipad Pro
#Fix: Import v1, v2 for Sample demo
#Update: Sample Data plugin

VideoPro 2.3.6.4 – 2019/07/19
includes Cactus-Video 2.3.6.4; Vissual Composer 6.0.4

#Fix: Jquerry function
#FIx: Lightbox issue with FVplayer
#Fix: TGM plugin for required and recommendation plugin
#Fix: Channel/Playlist on

#Fix: Slider issue on Category with Mobile view

#Fix: Icon with custom social
#Add: Welcome page
#Add: New backup file for one click installation

VideoPro 2.3.6.3 – 2019/06/05
includes Cactus-Actor 1.1.4.0; Cactus-Rating 1.2.1.3; Easy Tab 2.0.2; Vissual Composer 6.0.3
VideoPro 2.3.6.2 – 2019/04/16
includes Cactus-Video 2.3.6.2; Cactus-Actor 1.1.3.9;

#Fix: Counter issues
#Fix: Show search results
#Fix: Error for update recommend series when update post
#Fix: Option re-order series
#Fix: Actor listing thumbnail size

VideoPro 2.3.6.1 – 2019/02/19
includes Cactus-Video 2.3.6.1; VideoPro – Shortcodes 1.3.4.6; Vissual Composer 5.7; Cactus Badges 1.1; Cactus Rating 1.2.1.2;

#Fix: Video-series
#Fix: Badge in edit post sidebar
#Fix: Cactus count views
#Fix: Cactus increase view
#Fix: Autoplay vimeo with video play thumbnail
#Fix: Missing video series for classic editor
#Fix: Button sidebar z-index
#Fix: Embeb video width/height = 1
#Fix: Search page issues
#Fix: Missing series box in classic mode
#Fix: Series dropbox z-index
#Fix: Series box height when got many items
#Fix: rating start
#Fix: PHP warning

VideoPro 2.3.6.0 – 2018/12/12
includes Cactus-Video 2.3.6.0; Cactus-Actor 1.1.3.8; Vissual Composer 5.6;

#Fix: Option post select
#Fix: Sart backward multi link option
#Fix: Theme Option issue
#Update: Compatible with WordPress 5.0

VideoPro 2.3.5.8 – 2018/11/16
includes Cactus-Video 2.3.5.8;

#Fix: Single video z-index layout

VideoPro 2.3.5.7 – 2018/11/12
includes Cactus-Video 2.3.5.7;

#Fix: Submit video button > stop hide email fields
#Add: Include Option Tree on Theme package

VideoPro 2.3.5.6 – 2018/10/26
includes Cactus-Video 2.3.5.6; Visual Composer 5.5.5;

#Fix: WP Editor for post front end editor description
#Fix: Show/hide author, date for search content
#Fix: Dropdown magemenu overlow text
#Fix: Imporve remove email field when user logged in (contact form 7 for user submit video)
#Add: Social link target for Theme Option

VideoPro 2.3.5.5 – 2018/10/01
includes Cactus-Video 2.3.5.5; VideoPro – Shortcodes 1.3.4.5; Visual Composer 5.5.4;

#Fix: Next – Previous for single Video Playlist
#Fix: Facebook, Google api script issue
#Fix: Next – Previous page button

VideoPro 2.3.5.4 – 2018/08/27
includes Cactus-Video 2.3.5.4; Cactus Actor 1.1.3.7; Cactus Landingpage 1.0.1; VideoPro – Shortcodes 1.3.4.4;

#Fix: Watch-late warning issue
#Fix: Pull-left, pull-right element
#Fix: Widget category show all
#Fix: Single actor ajax loadmore video
#Update: Allow custom playlist video order
#Fix: Ajaxload for custom order playlist
#Fix: Gallery missing icon font
#Fix: Smart content box order by rating
#Fix: Warning PHP
#Fix: Cactus landing page

VideoPro 2.3.5.3 – 2018/08/10
includes Cactus-Video 2.3.5.3; Cactus Actor 1.1.3.6; Visual Composer 5.5.2;

#Fix: Amp-iframe for embed video
#Fix: Allow video channel order DESC or ASC
#Fix: Improve watch late
#Fix: Show added watch late in first loading video
#Fix: Allow reclick to remove from watch late
#Update: Amp-src for embed video
#Update: Render amp as self-hosted
#Update: Amp-iframe for embed video
#Update: Videopro category widget
#Update: Hook video submission

VideoPro 2.3.5.2 – 2018/07/12

#Fix: breadcrumb author page

VideoPro 2.3.5.1 – 2018/07/04
includes Cactus-Video 2.3.5.2

#Fix: fatal error (ct form 7 not activated)

VideoPro 2.3.5 – 2018/06/09
includes Cactus-Video 2.3.5; Cactus Ads 2.5.5.4; Cactus Actor 1.1.3.5

#Update: support Video Streaming using VideoWhisper plugin and RTMP servers (such as Wowza). See doc
#Update: option to show notifications when someone subscribed your channels
#Update: option to limit User Upload Video feature for only Admin
#Fix: dark schema style
#Fix: support BuddyPress 3.0
#Fix: some minor bugs

VideoPro 2.3.4.3 – 2018/04/27
includes Cactus-Video 2.3.4.1; Cactus-Actor 1.1.3.4; Advance Search Form 1.4.9.8; Cactus Ads 2.5.5.2

#Fix: some minor errors and CSS including Font-Awesome icons
#Fix: cannot click on Delete video after ajax-loaded
#Fix: hide "Layout Switcher Toolbar" for search results page when option is turned off
#Fix: cannot save channel Social links from front-end
#Fix: users can see Edit icon for other users' channel page
#Update: [Cactus Ads] support Youtube Short URL

VideoPro 2.3.4.2 – 2018/03/30
includes Cactus-Video 2.3.4; Visual Composer 5.4.7

#Fix: some minor errors and CSS
#Fix: cannot use Control Bar on Video File on Lightbox
#Fix: "Auto check 'Do Not Fetch'" option does not work correctly
#Fix: conflict between Elite Player and Bz Player
#Fix: Off-canvas menu opening issue
#Fix: layout is broken if using FV Flow Player and JS Player in Video Header – Thumbnail mode
#Fix: cannot load image when uploading from front-end in a multisite
#Update: add "Back to primary Video" for multi-link video
#Update: Users can edit Channel Social Accounts from front-end

Full release logs: Click Here