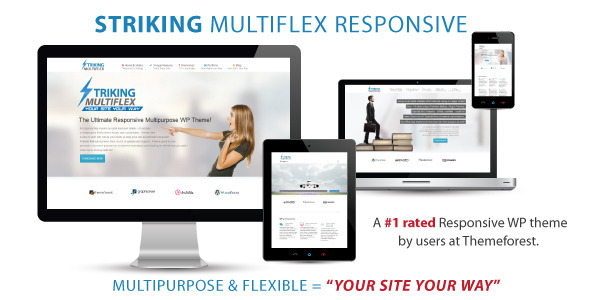 1 JULY 2021 – NEW STRIKING MULTIFLEX UPDATE – VER 2.1.7!
We are pleased to release our 48th full update of Striking MultiFlex with full compatibility for WordPress 5.8.0 , WOOCOMMERCE 5.5.2+; PHP 8 & 7.4 compatible and have the latest REV SLIDER V6 integrated into the theme!
100% COMPATIBLE WITH THE LATEST STABLE PHP 8!
WPML Approved theme and we have extra wpml related functionality!
Thank you to all our loyal users. Be advised Striking MultiFlex 2.1.7 is available for download from your ThemeForest account soon, and an update notification is now showing in your WordPress Dashboard provided you have toggled on the theme setting (Advanced Settings Panel) that enables notifications for theme updates and your Envato Item Support for our theme is in good standing.
Your Envato License Support has to be up-to-date in order to use the built in theme update function. Like any other premium item if license support is not current the easy update function is non-operative and you have to download the full theme package and install the update by ftp.
We suggest you visit our Support Forum for detailed information on the release or review the changelog in the Envato download package.  We are fully compatible with the newest Woo release Ver 5.5.2+ including our custom woo templates.  The Changelog in the Version 2.1.7 Release Announcement Thread has a detailed information on all changes.
WooCommerce Plugin – For the benefit of proof of compatibility we have added a Woo based store to our demo site – MultiFlex 2.1.7 and WooCommerce 5.5.2.  Striking MultiFlex has many custom woo related settings in its core theme options which are viewable on the demo site.  Striking MultiFlex includes an full set of installable woo demo content by way of our native one-touch demo content installer,
WPML – we are an approved WPML compatible theme.  Thousands of multilingual sites have been built with Striking MultiFlex and we are also 100% RTL compatible with full css built into our theme to allow every function of the theme to work in RTL languages.
Striking MultiFlex includes an easy "One Touch" demo content install function with the 3 different sets of demo content available including Woo store content for installation, as well as a complete custom Revolution Slider demo package!
FAMOUS THEME SUPPORT!
A familiar comment in many testimonials is the great Striking support.  The Striking Team was one of the Themeforest pioneers in creating a separate dedicated support forum for usage questions and gathering of Striking users for trading customization ideas.  Our support ethic is so good that it has been written up in 3rd party blog sites that discuss WP themes as a model of how to conduct support properly (Striking has itself received many positive independent reviews since its introduction in 2010).
Questions are answered daily on the Striking forum by our support team members.  The support forum also has thousands of custom code snippets posted with solutions for almost any customization situation you are likely to encounter.  Its the perfect place for a newbie to get their feet wet on customizing, and experts to find unusual solutions for that tweak they desire.
Please register on the support forum using your Themeforest name. PLEASE NOTE WE DO NOT PROVIDE support here in the Striking comments thread – that is only for prospective purchaser questions and all other questions will be redirected to the support forum found at this link:
STRIKING MULTIFLEX FEATURES
Striking MulitFlex is an extremely powerful and flexible wordpress theme featuring a heavy duty framework that can scale for large sites and web requirements. It features true WP Multisite capability, is a WPML approved theme, and features customization for Woo Commerce plugin integration. 19,000+ Themeforest purchasers tell us it is the most feature laden and customizable theme they have ever used.  We invite you to view the demo, to see for yourself why it is the best solution to your web design needs.
Striking is a true multipurpose theme, and can be used for site types ranging from photography to gaming, automotive and real estate, blog, portfolio, ecommercie and colleges and universities for their websites! The theme is highly flexible, and endlessly customizable.
You will not find a more comprehensive admin interface – easy enough for a beginner to grasp immediately but with every design element of Striking fully controllable so that if you are an experienced designer you can manipulate the design in any manner you see fit – and Striking includes a child theme layout for the WP design professionals.  If you are a raw beginner, but see a code snippet on the support forum or elsewhere on the net that you want to test out, the admin panels include custom CSS and Javascript (JS) fields where you can place such code to manipulate the theme styles without having to hardcode theme files.
The theme is extremely plugin friendly and our collection below indicates some premium plugins available from CodeCanyon that are popular with our userbase.
Theme updates
Striking has had over 200 updates for feature additions and wordpress core matching since inception in 2010.  When WP updates, Striking updates.  No worrying about buying a theme that gets abandoned or left behind after 6 months.  We listen to theme feedback and where practical and feasible have added many customer requested features.
Prior Updates
Please visit the support forum category on Update. Over time hundreds of new features and tweaks have been introduced to the theme:
Striking MultiFlex Releases

Credits

OpenSource Projects

jQuery by John Resig
jQuery gmap plugin by Cedric Kastner
jQuery Kwicks plugin by
jQuery Easing plugin by
George McGinley Smith
jQuery Nivo Slider plugin by Gilbert
Pellegrom
jQuery Quicksand plugin by Jacek
Galanciak
jQuery Tools plugin by Tero Piirainen
jQuery Tweet plugin by seaofclouds
html5doctor.com Reset Stylesheet by
Richard Clark
Breadcrumbs Plus Plugin by Luis Alberto
Ochoa
WP-PageNavi Plugin by Lester 'GaMerZ' Chan

Graphics

The Ultimate Free Web Designer's Icon Set by

Vitaly Friedman

Social Network Icon Pack by

Komodo Media, Rogie King

User Interface Design Framework by

Webalys

flickr creative commons library pictures by
ajari,
aussiegall,
hamed,
nattu,
visualpanic,
xjrlokix

Fonts

Aaargh by Tup Wanders
Andika Basic by SIL International
Aurulent Sans by Stephen G. Hartke
Blokletters by LeFly
Candela by La Tipomatika
Chelsea by Dieter Steffmann
ChunkFive by
The League
of Moveable Type
Cicle by La Tipomatika
Colaborate by Ralph Oliver
du Carrois
Daniel by Daniel Midgley
Droid Serif by
Google Android
Hattori Hanzo by
Roman Shamin
Imperator by
Paul
Lloyd
Liberation Sans byRed Hat
Nobile by Vernon
Adams
Oregon LDO by Luke Owens
PT Sans by Paratype
Quicksand by
Andrew Paglinawan
Segan by [email protected]
Luna by Carolina Mejia Villegas