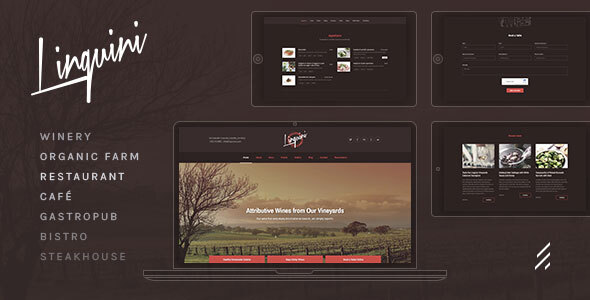 Linguini is a restaurant WordPress theme suitable for any kind and size of the restaurant, cafe,
bistro, pub, winery, farm, bar or any other food-related business.
Theme's design is fully customizable and highly optimized for mobile, so will adapt itself to any mobile or
tablet device. The theme is ready-to-use, no needed coding or design skills. The theme offers all essential
restaurant features such as menu management, event promotions, gallery management, blogging, contact form and also
online reservation form with backend reservation management.
Everything you need to create and manage a stunning restaurant website.
Linguini 3.3.0 (August 23, 2020) – Changelog
Linguini Features
3 Complete websites to
one-click import
Live customizing with native WordPress Customizer
(colors, fonts, widgets
& settings of the
theme)

Unlimited colors
850+ Google fonts

Easy-to-use admin interface
No dependency on third-party plugins
Reservation system [view
reservations]

Reservation form with data validation
Reservations management with reservation status
Email notifications
Secured with reCaptcha/noCaptcha (optional)
GDPR Ready – terms and conditions assignment (optional)
Compatible with Restaurant
Reservations plugin
Restaurant menu management [view
menu]

American and european menu style or whatever
Multiple prices for different quantities
Unlimited ingredients
Unlimited tags
Optional single pages
Optional images
Events management [view events]

Start/end date
Time
Location information
Status
Ticket price
Ticket button
Gallery management [view
gallery]
Blogging platform

Standard post format
Gallery post format
Video post format

Self-hosted video
Embed video – YouTube, Vimeo, Twitch, etc.

Audio post format

Self-hosted audio
Embed audio – Spotify, SoundCloud, etc.

Quote post format

Paginated posts
Password protected posts
Collection of shortcodes
Pages management

10+ page templates
Featured images
Page builders compatible
Contact form

Contact form with data validation
Secured with reCaptcha – noCaptcha (optional)
GDPR Ready – terms and conditions assignment (optional)
Ready to translate (optional)

Loco Translate
plugin supported
Polylang plugin
supported
WPML plugin supported

Poedit software supported
POT file included

Přeloženo do češtiny (cs_CZ)
Navigation – Drag'n'drop menu manager

Sticky navigation (optional)
Up to 3 level navigation
Widgets

6 Custom widgets
Widgetized homepage (3 areas)
Widgetized sidebars
Widgetized footer
Images

Logo upload
Loading logo upload
Favicon upload
Background image upload
Header image upload
Lazy loading of images
Socials

Social network icons
Twitter, Facebook, Google+, Instagram, TripAdvisor, Foursquare, Pinterest,
Yelp, YouTube, Zagat, Zomato
Social share buttons
Page builders compatible
Visual Composer, Elementor, Divi, Page Builder by SiteOrigin, Live Customizer, etc. (optional – page builder is not included – all theme demos are created without a page builder)
Compatible with most popular plugins (optional)

Visual Composer
Elementor
Contact Form 7
All In One SEO Pack
WPML
Polylang
Loco Translate
MailChimp
Autoptimize
And much more …
Free lifetime updates
Automatic updates with Envato Market plugin (optional)
Child theme included
Extensive documentation
Technical support
Need help? We are here for you
Please read our documentation – and then if you
will need some help or just talk with us, please let us know via the comments or drop us an email through the contact form.
Changelog

23/8/2020 v.3.3.0
- Refactored javascripts
- Refactored templates
- Improved structured data (rich snippets)
- Updated components

---

3/4/2020 v.3.2.9
- Allowed basic HTML in the address field in the header
- Allowed basic HTML in the headline of the about section
- Allowed basic HTML in the description of the about section

---

16/3/2020 v.3.2.8
- Improved Gutenberg integration
- Improved Gutenberg blocks
- Updated packages

---

18/2/2020 v.3.2.7
- Improved menu
- Updated components

---

12/8/2019 v.3.2.6
- Improved image sizes - Recommended to regenerate thumbnails using the "Regenerate Thumbnails" plugin
- Improved menu navigation on mobile devices
- Updated components

---

16/5/2019 v.3.2.5
- Added slideshow badge
- Improved schema.org structured data
- Updated components

---

15/3/2019 v.3.2.4
- Improved Gutenberg editor support
- Improved displaying of the menu items
- Improved translations
- Updated components

---

23/11/2018 v.3.2.3
- Added Gutenberg editor support
- Added compatibility with Contact Form 7 plugin
- Added compatibility with Restaurant Reservations plugin
- Updated javascript components

---

28/9/2018 v.3.2.2
- Added new importable demo "Restaurant" 
- Added new importable demo "Bistro" 
- Added WPML config to child theme
- Added option to enable/disable sticking of the navigation (Appearance > Customize > Design > Navigation > Sticky)
- Added option to control text color opacity (Appearance > Customize > Design > Content > Color Opacity)
- Added option to upload loading image (Appearance > Customize > Site Identity > Loading Image)
- Updated components

---

22/6/2018 v.3.2.1
- Improved "call to action" responsivity

---

26/4/2018 v.3.2.0
- Added header image support
- Added background image support
- Added sticky navigation
- Added czech translations / Přidány české překlady
- Improved WPML Multilingual plugin support
- Improved page/post content
- Updated javascript components
- Removed unused filters
- Refactored code

---

6/2/2018 v.3.1.3
- Added "Sitemap" page template to create a sitemap for users
- Changed a way to load scripts (Use Autoptimize plugin to merge and optimize scripts)

---

30/1/2018 v.3.1.2
- Added FORQY Shortcodes support
- Added options to set the number of posts on the homepage (Appearance > Customize > Homepage)
- Improved widgets

---

19/12/2017 v.3.1.1
- Refactored & optimised code

---

11/12/2017 v.3.1.0
- Added speed settings for a slideshow (Appearance > Customize > Slideshow > Settings)
- Added support for the 1.2+ version of the FORQY Restaurant plugin
- Improved footer

---

26/06/2017 v.3.0.9
- Added taxonomy image in a heading
- Improved enqueuing of Google fonts for faster loading
- Improved menu query

---

25/04/2017 v.3.0.8
- Added menu hierarchy support
- Added support for shortcodes in widgets
- Optimized styles and scripts
- Improved restaurant microdata
- Improved lightbox gallery
- Improved form select
- Improved lightbox icons for Firefox

---

08/02/2017 v.3.0.7
- Added event date options (Appearance > Customize > Settings > Event Date Format|Event Date Delimiter)
- Improved menu content
- Improved 'Cube' effect of the slideshow
- Improved page loading logo
- Improved categories widgets
- Migrated custom CSS

---

23/11/2016 v.3.0.6
- Improved menu navigation query

---

19/10/2016 v.3.0.5
- Added one click demo import
- Added opening to the new window of address in a header
- Changed gallery loop order by DESC

---

26/09/2016 v.3.0.4
- Removed getimagesize() function in header.php

---

21/09/2016 v.3.0.3
- Improved comments
- Improved images uploading
- Improved images loading
- Improved forms
- Added search form button
- Increased theme security

---

13/09/2016 v.3.0.2
- Improved displaying of the logo image
- Improved mobile navigation
- Added lightbox color options

---

11/09/2016 v.3.0.1
- Fixed minor bugs
- Improved loops
- Increased theme security
- Escaped text strings
- Added POT file

---

11/08/2016 v.3.0.0
- Initial release