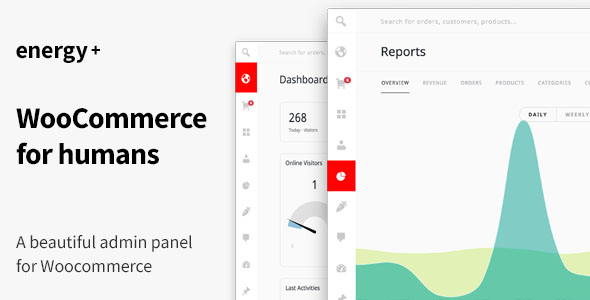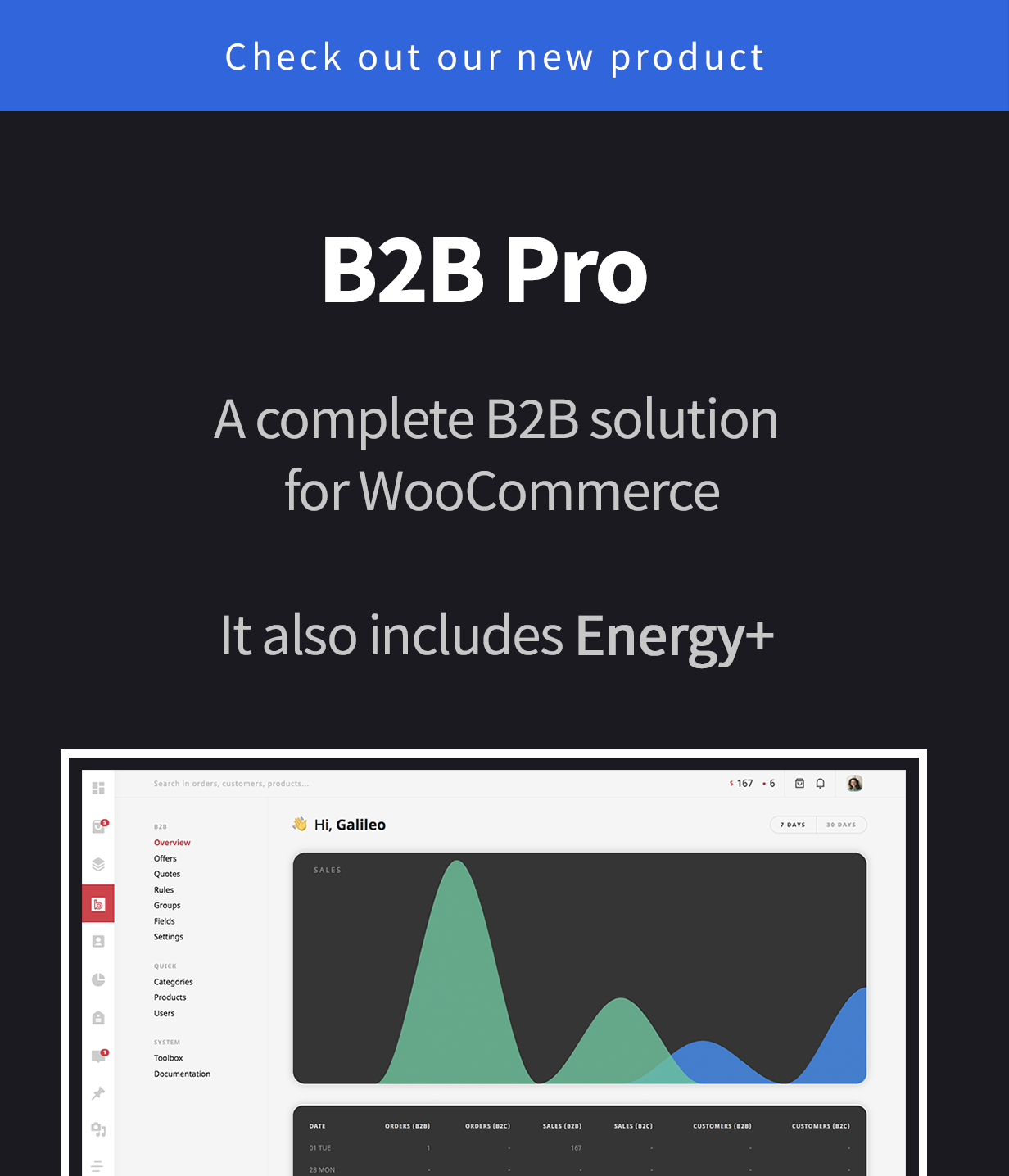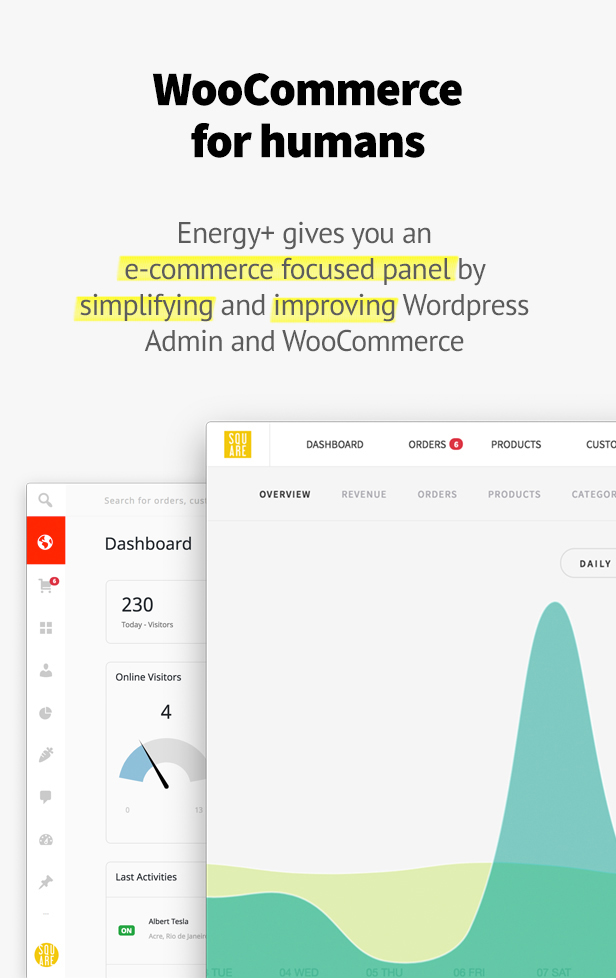 WooCommerce Admin Panel and WooCommerce Admin Theme
Energy+ gives you an e-commerce focused panel by simplifying and improving WordPress Admin and WooCommerce.
Features
– A brand new interface that focuses entirely on e-commerce
– Number of visitors online
– Hourly, weekly, monthly visitors
– Tracking activities of online visitors
– Tracking which products have been viewed during the day
– Conversion rates
– Widget support for dashboard
– A beautiful interface to manage orders, products, customers, coupons, comments and reports.
– Global search for orders, products and customers from anywhere
– Theme support to keep you from having a boring interface
– Notification center
– Select which menu items will be on your panel
Note
Energy+ does not support multivendor plugins.
About bulk licenses offer*
With this offer; if you purchase an Extended License, you can use the same purchase code for 30 different sites and Regular License agreements are valid for each site you use.
Changelog

1.2.7:
  + Tracker now supports Product Tags
  + Improvements about the Tracker
  + Fixed an issue with displaying "Future" products
  + Some minor bug fixes

1.2.6:
  + Auto refresh order list every 60 seconds (Reactors > Tweaks)
  + Custom CSS (Reactors > Tweaks)
  + Added "Statistics" shortcut to products (Products)
  * Fixed color issue in custom order statuses

1.2.5:
  + Bug fixes and improvements

1.2.4:
  + Performance improvements for right panel
  + Minor WordPress 5.5 related tweaks

1.2.2:
  + New Reactor: Announcements 
  + Sales/Draft shortcuts for products (Products)
  + Low stock alert (Notifications)

1.2.1:
  + New widget: Shortcuts (Dashboard)
  + Roles on Customers page

1.2.0:
  + New Reactor: Energizer (Reactors > Energizer)
  + Options for items per page (Reactors > Tweaks)
  + Options to choose actions for every Order statuses (Reactors > Tweaks)
  + New pagination style
  + Several improvements

1.1.8:
  + New Reactor: Login page customizer (Reactors > Login Page)

1.1.5:
  + Custom icons for menu items (Settings > Menu)
  + Google Fonts support (Reactors > Tweaks)
  + "Show Screen Options for non-Energy pages" option (Reactors > Tweaks)

1.1.1:
  + New: Ability to choose which menu items are shown to Shop Managers and Admins
  + Reactors: Tweaks
            + Landing page selector
            + Show "WooCommerce Settings" tab in Settings
            + Show menu item titles at bottom of icons
  * Added sorting option to Products
  * "More" menu icon is changed

1.1.0:
  + New: Reactors
  + Reactors: Tweaks (New) 

1.0.6:
  - Improvements for custom menu item icons
  - Improvements for Tracker

1.0.5:
  + New: Colors
  + New: Reorder menu items
  - Fix: Currency symbol positions
  - Fix: Missing information in order addresses
  - Fix: Disable E+ interface on Network panel

1.0.2:
  + New: "One Shadow" theme
  + New: Title & Badge count
  + New: Desktop App Helper 
  - Fix: A bug cause wrong date for coupon expiry
  - Fix: Disable access to Settings > Panels for Shop Managers 

1.0.1:
  + New: RTL support
  + New: Reset Menu button at Settings
  + New: custom.css for custom styles
  - Fix: Some typo errors
  - Fix: A bug about internationalization