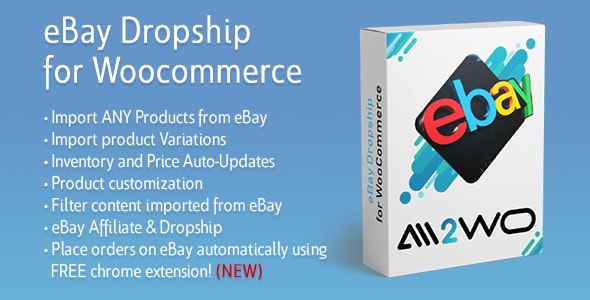 eBay2Woo – dropshipping plugin for eBay
BIG SALE: only $25 for first 500 sales!
Allows you to easily import dropshipped or affiliated eBay products directly into your WooCommerce store and ship them directly to your customers – in only a few clicks. Also you can place your orders on eBay.com using our FREE chrome extension.
This plugin utilizes the official eBay API methods to automate your dropshipping experience.
Features for automation of your eBay dropshipping business
Import any products from eBay – easily import products from eBay.com directly into your store.
Fulfill / Place orders automatically on eBay – have your orders shipped directly to your customers in just a few clicks. Using the chrome extension
Search products for specific eBay seller – use the seller ID to find all product from that seller.
Product variations – offer different variations of your products, such as multiple sizes, colors, materials, and more.
Filter eBay content – add lists of phrases you want to be replaced or removed completely from content imported from eBay
Product customization – edit your products as you wish: change titles, descriptions, images, anything!
Inventory and price auto-updates – know that your inventory and prices are always up to date.
Pricing automations – create pricing rules, and price your products in bulk.
eBay affiliate & dropship – with this plugin you can sell products as dropshipper or using eBay Affiliate Key.
Live Previews
Please check the demo before purchasing the plugin.
Frontend Preview – displaying of products in WooCommerce. You can change the view as you want by editing the WooCommerce template files.
Backend Preview – plugin backend.
If you have any further questions, please feel free to contact us.
Change Log
ver. 1.1.9

*Fxed import quiantity
*Fixed regular pricing calculaion
*Fixed: minor bugs

ver. 1.1.7

*Added: a feature to place orders automatically on eBay using the eBay2Woo chrome extension
*Fixed: minor bugs

ver. 1.1.6

*Fixed: the import list bug
*Added a new constant E2W_KEEP_DESCRIPTION_HTML_TAGS, if it's set to TRUE, then HTML tags are not replaced in a product description
*Fixed a bug with synchronization
*Fixed: minor bugs

ver. 1.1.2

*Fixed: remove empty images from the description of imported product
*Fixed: compatibility bug with new WooCommerce plugin
*Fixed: synchronization bug
*Fixed: minor bugs

ver. 1.1.0:

*Fixed: pricing update bug
*Fixed: stock issue
*Added: convert image to large option(Convert images to large)
*Added: free shipping search filter
*Fixed: minor bugs

ver. 1.0.1:

*Added: new button to "Add all to Import List" which is available on Ebay2Woo > Search Products page
*Added: new "Products per page" option in the plugin settings, it sets the number of products showing on Ebay2Woo >Search Products page per page
*Added: the ability to search products for specific seller ID
*Fixed: minor bugs

ver. 1.0.0:

*Initial release

How to install Ebay Dropshipping plugin?
Method 1:
Method 2: