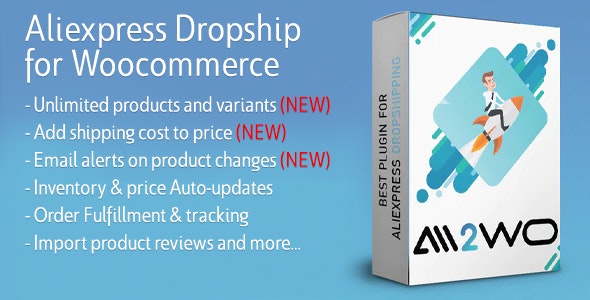 Ali2Woo – AliExpress dropshipping plugin
Ali2Woo is the plugin for dropshipping with AliExpress. It can import products, product reviews and shipping information from AliExpress. It can even place your orders on AliExpress. Also, it includes 20+ additional features, which automate your business significantly. Please check the full list of features below.
Please note: you can use Ali2Woo not only for dropshipping, but for the affiliate marketing with AliExpress too. Just join your favorite affiliate program to the plugin (AliExpress Portal, Admitad or EPN).
Plugin Features
Import UNLIMITED products from AliExpress – easily import products from AliExpress.com directly into your store.
Product variations – offer different variations of your products, such as multiple sizes, colors, materials, and more.
Remove "Ship From" attribute automatically – save your time, now don't need to edit the "Shipping From" attribute for each product one by one, Ali2Woo will do that automatically for you!

Show/manage shipping options – show shipping cost of available delivery methods on your website and manage these options via wordpress admin panel.

show the shipping info on the product, cart and checkout pages
use the shipping data in the website backend to estimate your profit after calculating shipping costs
set up shipping method pricing rules and add your margin above original shipping cost
manage shipping methods (choose what shipping options should not be displayed in your store and change shipping method labels)

See how shipping selection can look in your store:

It can be shown as a popup dialog: https://demo-store.ali2woo.com
Or as a normal drop-down selection: https://demo-store2.ali2woo.com

Place orders automatically – have your orders shipped directly to your customers in just a few clicks using our chrome extension. Manage Aliexpress order the same as other WooCommerce orders. Moreover, reduce your workload by automating bulk orders and fulfil multiple orders with one click.

Track orders – The plugin gets and sync the tracking numbers of your orders.

You can sync tracking data manually for selected orders
You can sync tracking data for all orders in bulk
You can enable autosync of tracking data (via chrome extension). This will be done every 15 minutes automatically.

There is an option to manually sync the Aliexpress order ID and tracking number from Aliexpress to WooCommerce.

Change order status – Automatically change order status after order id & tracking number of an order are synced successfully.

Change/Override Product Supplier– Easily change suppliers when the product is out of stock, or you have a better source. Also, Ali2Woo can change the supplier in the woocommerce orders related with imported product .

Filter AliExpress content – add lists of phrases you want to be replaced or removed completely from content imported from AliExpress
Product Change Alerts – get email notifications if a vendor changes prices or stock, if some product become unavailable on AliExpress or new variation appear in the product.
Product customization – edit your products as you wish: change titles, descriptions, images, anything!
Splitting product variants–split product variants into separate products
Inventory and price synchronization and auto-updates – know that your inventory and prices are always up to date All products will be synchronized automatically by a schedule..
Built-In Image Editor – edit images before pushing them to your store from AliExpress, and make changes to product images directly from the WordPress admin panel.
Pricing automations – create pricing rules, and price your products in bulk.
Add Shipping cost to your pricing markup – increase your margin by including shipping cost to the product price.
Filter products with ePacket, AliExpress Direct, ot other shipping option. – with the shipping filter, import only the products with the fastest delivery times.

Product reviews – engage your customers and encourage sales with the option to import reviews in your site directly from AliExpress.

It can import new reviews automatically if they appear on AliExpress
You can set the range (MIN and MAX) to determine how many reviews should be imported for products
It's possible to import reviews from particular countries only, or from all countries
You can import review images, text and review attributes
There are options to skip empty reviews or reviews which include keywords from your list
The plugin can send reviews to draft if you want to edit them before publishing on your website

Translate option – import products and reviews in different AliExpress languages (English, Arabic, German, Spanish, French, Italian, Polish, Japanese, Korean, Dutch, Portuguese, Russian, Thai, Indonesian, Turkish, Vietnamese)
Aliexpress dropshipping business & affiliate marketing – with Ali2Woo (AliExpress dropshipping plugin) you can sell products as dropshipper and/or using AliExpress (Admitad or EPN) Affiliate Key.
Chrome extension – import products while browsing AliExpress using the free Chrome extension (it's often updated, you can download it using this link)
Multi-currency pricing – import product prices in different currencies. Our plugin supports most currencies available on AliExpress. It lets you to not overload your store with third-party currency convertors. Please note: complete currencies list is available in this help article
Cash-Back system – earn an additional affiliate commission to your main dropshipping source of income using AliExpress Portal, Admitad Network or EPN
Additional services
If you want to migrate your store and products from WooImporter, AliDropship or Shopmaster to Ali2Woo (AliExpress dropshipping plugin), we can help you to do this.
Changelog
1.19.2

*Fixed one more critical javascript bug

1.19.1

*Fixed the javascript bug of 1.19.0

1.19.0

*Added: "Select country" option.  You can import reviews left by customers from all countries or from particular countries only.
*Added: "Skip empty review" option
*Added: "Skip reviews with keywords" option
*Improved: "Reviews per product" option allows you to set MIN and MAX number of reviews per product you import.
*Added: "Remove 'Ship From' attribute" option allows you to remove the 'Ship From' attribute automatically during the product import.
*Added: "Sync product with AliExpress" button to the product editing page
*Added: "Allow duplication" option allows to import product duplicates, it's very helpful when you try to override the same product.
*Updated: translation template file.
*Fixed: shipping calculation in the Import List
*Fixed a bug occurring when an order is created manually in the Woocommerce backend
*Fixed minor bugs

1.18.15

*Added new feature "Automatic synchronization of tracking data via Chrome extension". 
Now you don't even click on the "SYNC ALL with AliExpress" button. 
Our chrome extension (v. 1.31) monitors your orders and checks them every 15 minutes. 
You can enable the feature on the chrome extension options page for the active store.
*Added "AliExpress Saver Shipping" shipping option to the plugin settings;
*Optimize plugin code and decrease using the server resources.
*Fixed bug with the tracking number update method.
*Fixed bug with displaying of tracking numbers on the order editing page
*Fixed the compatibility issue with WPML
*Fixed minor bugs

1.18.12

*Added new AliExpress Order ID column to the orders list page
*Updated Tracking Numbers column on the order lists page. Now each tracking number is a link to the Cainiao portal.
*Added new shipping option to the plugin settings: AliExpress Direct and AliExpress Direct (BR)
*Fixed minor bugs

1.18.10

*Added compatibility with the tracking plugin (v. 1.1.8)
*Fixed the AliExpress Order ID save method, now the value is converted to numeric (to prevent spaces in the value)
*Fixed Shiping label translate

1.18.9

*Improved: order fulfillment feature. Now AliExpress Order ID is saved in the appropriate order item. 
*Improved: order synchronization feature. Now it's possible to get and update tracking data using the chrome extension. The extension checks when the tracking number is added by the seller on AliExpress, also it checks whether the tracking number has shipped or delivered state. The tracking numbers are saved in the appropriate order item.
*Added new option "Delivered Order Status". It sets the order status that should be used when all order's tracking numbers get Delivered state on AliExpress
*Changed option name "Tracking Code Order Status" to "Shipped Order Status". It sets the order status that should be used when all order's tracking numbers get Shipped state on AliExpress.
*Added: shipping cache
*Improved: system message refactoring
*Fixed: shipping price rules

1.18.6

*Fixed: Import list page styles
*Updated: plugin language file (.pot)
*Fixed: hide the a2w_customer_chosen_shipping order meta
*Fixed: single var product sku meta

1.18.3

*Fixed: update shipping info is not refreshed if selected product variant is changed on the product page
*Fixed: hide shipping info element if the product is out-of-stock on the product page

1.18.2

*Code refactoring
*Fixed: do not show the AliExpress shipping data in customer emails
*Fixed: show formatted shipping meta in the AliExpress info popup (on order list page)
*Fixed: order fulfillment should use a user selected shipping method or default shipping option from the plugin settings

1.18.1

- Improved: shipping popup styles in frontend
- Added: shipping info refresh on product quantity change
- Fixed: shipping info data for the UK
- Fixed: shipping module minor bugs

1.18.0

*Enhanced shipping module
- show shipping method selection on product, cart, and checkout
- two shipping selection types: popup dialog, drop-down selection
- ability to customize shipping messages from the backend panel
- different modes for shipping calculation
*Added information about chosen shipping to the order editing page (admin)
*Added: Compatibility with WP 5.8 and WC 5.5
*Fixed minor bugs

See changelog for all versions.